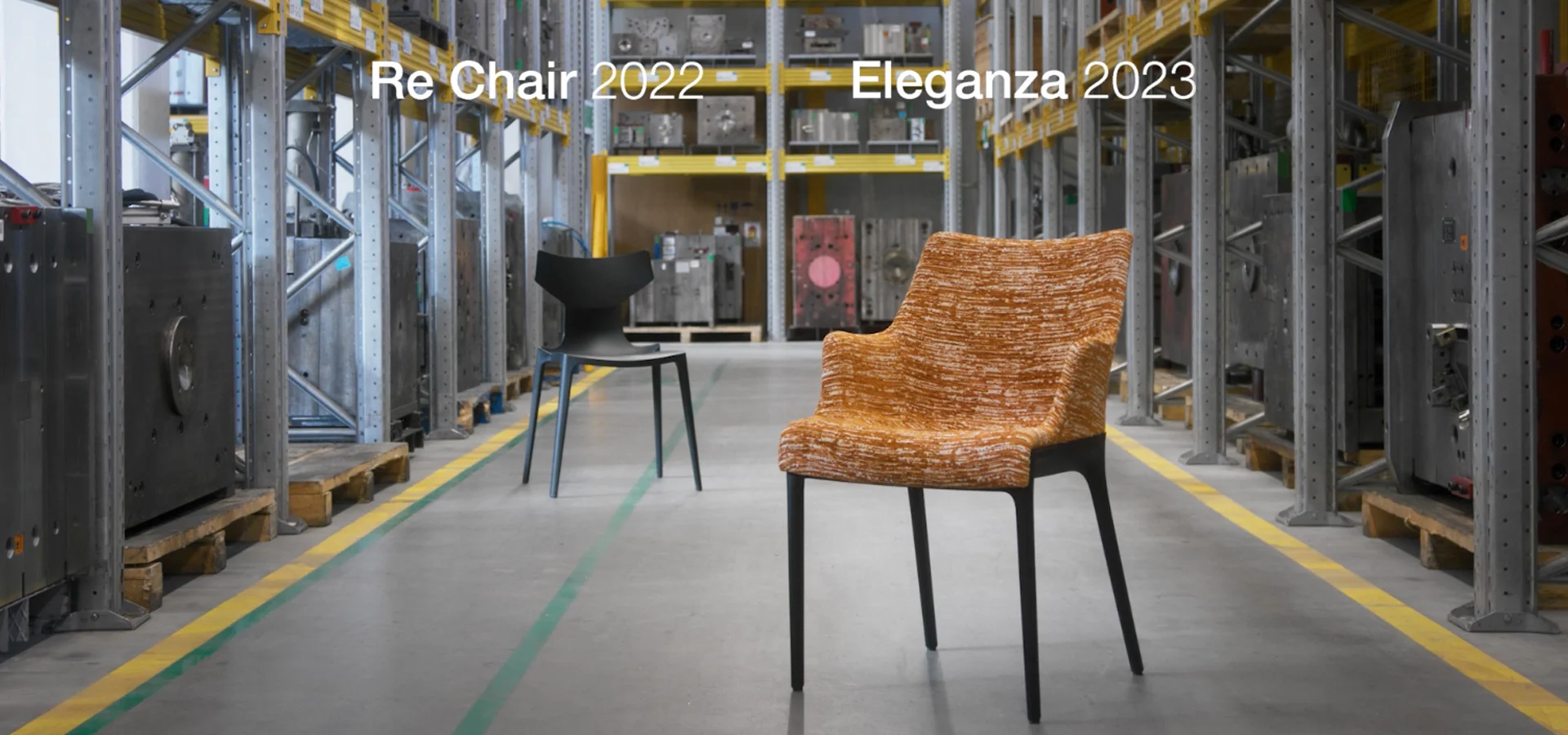 Kartell and Illy caffè
Milan
April 2023
KARTELL AND ILLYCAFFÈ: THE RECOVERY AND INNOVATION PROJECT THAT COMBINES DESIGN, TECHNOLOGY AND CIRCULAR ECONOMY CONTINUES
The collaboration between Kartell and illycaffè continues in the name of the circular economy which, on the occasion of the Salone del Mobile 2023, is expanded with the Eleganza armchair, in the ELA and NIA versions, designed by Philippe Starck. The novelty of this year is the structure of the seat, made with the recycling system of Iperespresso capsules, in two color variants.
After the Re-Chair, created by Antonio Citterio for Kartell and conceived as an object of experimentation with the expressive capacity of recycling, as well as the first ambassador of the project that made it possible to transform waste coffee capsules into a design product, Eleganza innovation is based on the processing already implemented for Re-Chair, paving the way for new applications, colors, and creative possibilities.
The partnership between Kartell and illycaffè will also be the focus of the installation that during the Milano Design Week will animate the illy flagship store in Via Montenapoleone (Milan) with an installation in which the theme of nature and sustainability are the protagonists: a rich vegetation will spread spontaneously in all its spaces welcoming the Re-Chair chairs, to give life to a perfect cohesion and coexistence between all the elements without nature and greenery being contaminated. In some islands of vegetation, green plexiglass volumes containing coffee capsules will be combined to emphasize the production process of the chair. A way, also scenic, to emphasize how two excellences of Made in Italy contribute to the sustainability of the planet through the strengthening of circular economy production models. On the occasion of the Salone del Mobile, the restaurant space will be furnished with Re-Chair and Eleganza chairs.
Re-Chair & Eleganza