Experimentation, innovation and technology. Kartell has always stayed faithful to its DNA, becoming an authentic lifestyle icon in its over 60-year history. The brand once again goes the extra mile, using all of its consolidated and inimitable expertise to bring plastic to new territories, telling an all-new story in the pages of a beautiful diary.  Collaborating with Italian fashion brands with whom it has shared values
(Moschino's colour, irony and iconic touch; .normaluisa's grace and femininity), Kartell has created footwear collections in brightly coloured plastic that bring fashion and design together and are fun and easy to wear. A modern-day fairy tale comes to life between the pages of the catalogue. It is set in the city where Kartell designed a project, bringing together worlds that are different but share a common creative tension.
This urban yet romantic setting provides the backdrop for presenting a product that can meet all requirements, in a colourful mix of lightness and nonchalance, sophistication and ease, only in super-soft, 100% recyclable plastic.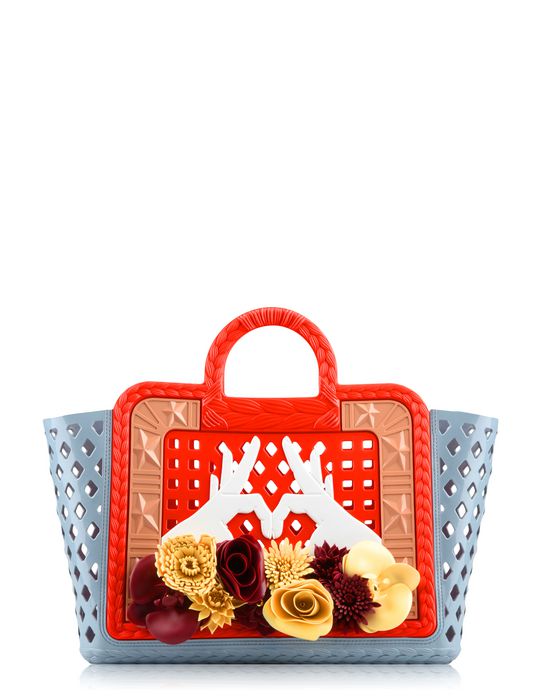 PARATI "The injected plastic Parati handbag, designed by Paula Cademartori, plays with woven patterns and is offered in four different colour combinations: shades of black, optic white and grey, alongside brighter colours that range from pink to purple and orange. On the side of the bag, two hands form a heart to remind us of the theme of universal love, while truly special reproductions of peonies, buttercups, orchids, anemones and dahlias in a variety of shapes and colours take us to far-off exotic atmospheres."
Shop Now